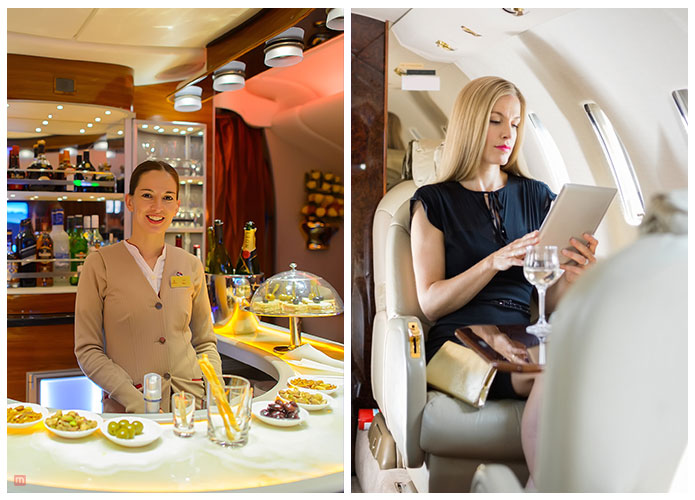 Business class and first class, which one would you prefer? Do you even know the difference between the two? Business class is usually the most premium cabin on a domestic flight. The airlines amp up their service during international flights with the addition of first class cabins. During international flights, they have three cabin planes which consist of economy class, business class and the premium first class. Which out of the two is easier to get a discount on? Here is the low down on business class versus first class discounts.
1. Which Is More Expensive?
Which is more expensive when it comes to business and first class? Well, it's very simple. Those planes that have two cabins, economy, and business class then obviously the business class will be more expensive. On three cabin planes first class, as the name suggest is the most expensive out of the lot. The amenities between business class and first class are almost the same. The difference is how they're curated and presented to the passengers.
2. How Much Is First Class Ticket?
The difference between business class and first class depends on the airline and the destination. It also depends on the route and stopovers. Those who are interested in flying in premium class will be pleased to know that the difference in price isn't a very big one. The jump in price is only about a $1,000 from business to first class. You can make up the difference by adding your frequent flyer miles towards the first class ticket.
3. How Do I Get A Good Price On Business Class Tickets?
To fly in a premium class you will have to become elite. Elite, does not mean you have to change your social status. It does, however; mean that you have to sign up for a reward program with the airline of your choice. You can then easily buy upgrades with the miles that you have accumulated with your recent travels. Those miles can be used towards your business class ticket or you can use them to upgrade to first class without breaking your wallet. It's very important to look for offers that let you buy miles.
Travel experts highly recommend getting a cheap last-minute upgrade at the airport. A lot of people don't know about this trick, but it works wonders. Passengers can easily get cheap upgrades during check in and some are even 50% off.
When you're buying business class tickets you should always keep a look out for sales and discounts. Airlines are always eager to lure passengers into their premium cabins, and since not everyone can afford such expensive tickets the airlines run them on promotion for a limited time.
4. First Class Ticket At Economy Prices
Luckily passengers can get first class tickets at a very affordable rate. They will as mentioned above have to sign up for frequent flyer miles and use their miles towards an upgrade. Higher rated frequent flyers often get upgrade certificates in order to go to the front of the line and be the first ones to receive complimentary upgrades. If you check in as early as possible there is a chance that airlines will bump passengers to first class if they still have unsold first class tickets.