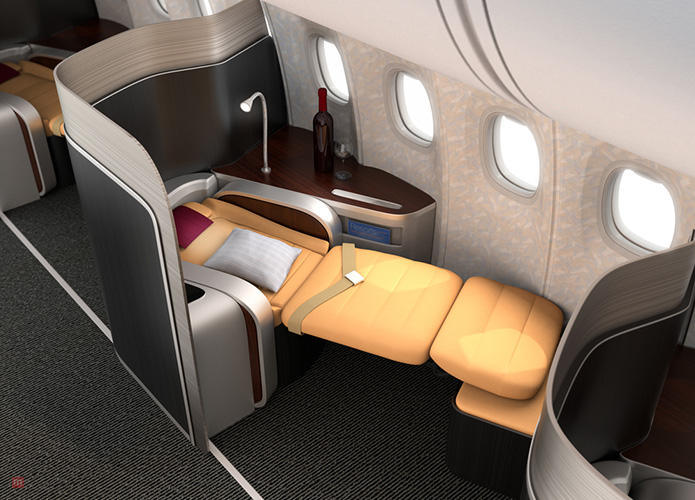 Dubai is one of the most visited cities in the world. It's an ever-evolving tourist destination that is addictive in every way. Dubai has mastered the art of making people fall in love with it, and know how to make them wanting more. It's a blend of both the old and the new, and not only is it one of the world's thriving tourist destinations; it is also a successful business hub. UAE owns two major carriers which often makes it hard for some to choose a favorite, especially when it comes to business class. If you're looking for business class flights to Dubai, and you're stuck picking Emirates or Etihad, it's time you took a sigh of relief. Keep on reading to find out which airlines business class flights we prefer.
1. Emirates Business Class Flights To Dubai
This major carrier offers business class on two different types of planes. It's worth knowing that a plane model makes a lot of difference when it comes to a good business class cabin. On the outside A380 is looks like an extremely ugly jet, but on the inside, it's luxurious and spacious. The upper deck business class is remarkable. The Emirates Boeing 777 business class is slightly tighter and has more standard seats.
The airline offers a choice of six-course meal for business class travelers. However, the menu does not always bring joy to everyone. There has been a lot of debate regarding Emirates business class menu because it does not consist of traditional Arabic menu, which is what most people expect. A different service is available for each passenger, leaving them to choose what they feel like eating. Personally, I think giving a choice to customers is great, but because there is no aisle cart involved the whole thing feels random and confused.
Everyone has seen Jennifer Aniston make an appearance in one of Emirates advertisements. She introduced the concept of the (now popular) lounge on board the plane. It's the ideal place to relax, eat, drink and socialize.
2. Etihad Business Class Flights To Dubai
The thrill of boarding Etihad's upper deck of the A380 never gets old. A lot of travel bloggers have given big thumbs up to its classy and sophisticated décor. The bed on the A 380 is wider and more luxurious than that on Boeing 777 and A330/A340.
According to a writer from news blog Airline Reporter the comfort factor, food, décor and the entertainment can easily rival some of today's first class products. He swears that the airshow is the best he has ever seen.
Read: Your Questions Answered; Baggage Allowances On Emirates Business Class
When the Telegraph reviewed the airlines business class cabins they declared its A380 cabins to be very comfortable, and some of the most sophisticated business class seats being offered. There are ample storage and an enormous retractable dining table which can easily transform into a desk. Since the business cabin is very big it helps maintain peace and quiet even when it's near capacity.
Read: This List Of Amazing Dubai Luxury Hotels Is All You Need For A Stay That Exudes Wealth & Style
3. Which One Should You Choose?
We say go with Etihad because it has won the hearts (and wallets) of everyone in the aviation world. Travel bloggers are madly in love with it, and happily endorse it because of its quality and comfort.