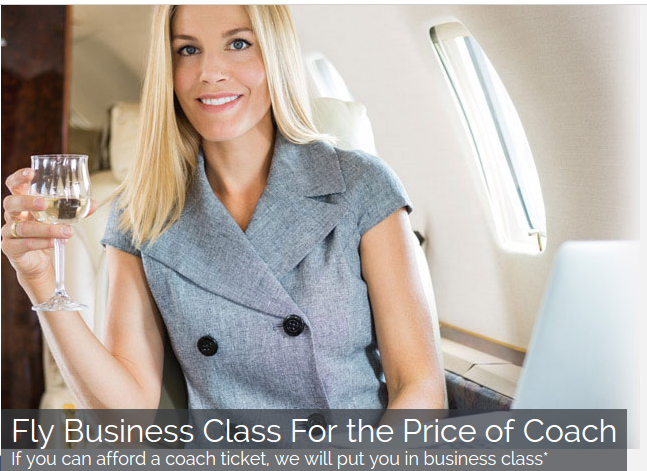 Flying at the front of the plane has become more expensive than ever. If you would like to fly business class, chances are, you will have to break out your wallet and spend some serious moolah. And you would always prefer to fly business class for the experience and the luxury it offers is beyond compare. A business class flight makes the journey more bearable, and the lavishness it provides is reflected in the service. All these reasons are why business class tickets cost a bomb. But if you are smart enough, you will be able to fly business class for the price of coach. Wonder how? Read on to find out:
1) Loyalty:
Staying loyal to an airline will get you perks that will help you fly business without breaking your bank. These loyalty programs reward you with miles every time you fly, and eventually you can add up these miles up and fly business class for economy prices.
2) Airline credit cards:
The airline credit cards and elite travel cards are the ones that offer you big travel rewards. These cards provide you with significant bonuses if you sign up and spend a certain amount within a specified period of time. You can get yourself or your spouse a second card which has an option to transfer points. This way, you can conjure up enough points that will let you fly business for the price of the coach.
3) Fly during non-business periods:
Business travellers fly all week, except for the weekends. That's why you don't often see people flying business class during the weekends. So, here's a chance for you to grab those seats for cheap!
4) Upgrade at check-in:
If you want an upgraded seat, but you don't have the miles to get it free, and you don't want to gamble on a free upgrade at the gate; you can purchase an upgrade at check-in. Airlines will often offer them at a discounted rate during online registration if there are seats available.
And that's it! If you want to fly business class, all you have to do is follow the above pointers. Travel Business Class Flights for the price of Coach and save a great deal annually. Following the tips, as mentioned above, can save you a lot of money. And therefore, you want to fly business class with any airline; these are the things you need to follow.
If you want to fly business for the price of coach, call us, and we will get in touch with you. Our toll-free number ((888) 210-1236) is available for assistance round the clock.