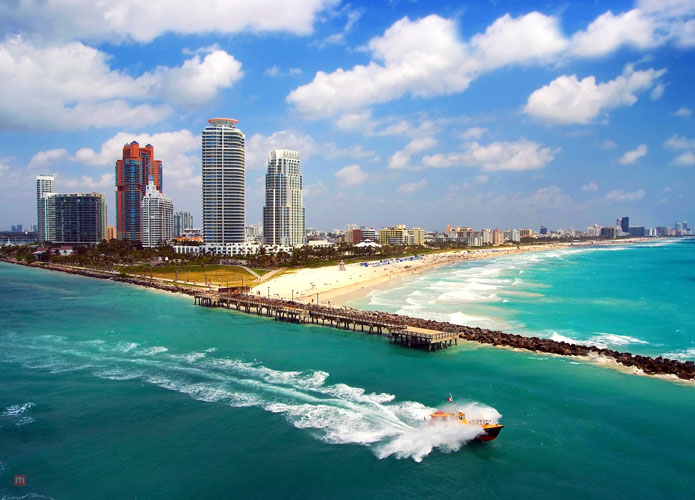 Miami is eye candy for Americans and foreigners alike, and that makes it one of the most recommended cities when it comes to traveling. With its beauty extending all over the city, a stay in Miami is a magical one! The first image that strikes one's head when we think of Miami is, of course, the divine beaches of the city. Yes, they are worth stealing the show. However, there is so much more to explore in this vibrant destination. Whether it comes to the wonderful architecture or merely people watching, Miami would surprise you in every manner. This Miami travel guide is all what you need in order to plan a fantastic trip to the city.
1. When Should You Visit?
March from May serves perfect if you're planning to travel to Miami. This turns out to be a wonderful escape because of the lovely weather. It is truly a treat when the rest of the country is still suffering from ongoing cold bites. Miami travel guide also suggests you spend your winters in the city because of the pleasant temperatures. However, it is important to watch out for the hotel rates because these ideal times turn out to be the most expensive ones. Budgeted travelers would have to keep a vigilant eye on any good travel deals they can possibly grab.
2. Astonishing Attractions
Whether it's the sun or moonlight, the attractions in Miami are always amazing. This is because the weather stays ideal all year round. Arguably, one of the best attractions of Miami is the famous South Beach. No matter when you visit, it will always appear beautiful. The coastline is spread over miles so tourists are often lost in getting to the best one. Lummus Beach, located near Ocean Drive is one of the best experiences. The ambiance of this beach is matchless to any other. ZooMiami is another place you must visit in the city. The exotic creatures in there delight tourists pouring in from all over the world. There's a lot at the zoo to keep children and adults amused. One of the most amazing places for adventurers in Miami is Jungle Island. Although there is a lot happening there, the sight of the tropical birds are just enough to brighten up anyone's day! For a wonderful alligator experience, head to the Everglades Safari Park. From petting them to watching them wrestle, it's a fun day out at the park.
3. Ways You Can Save
Miami can become an expensive travel destination. This Miami travel guide will advise you about the best decisions you can make. Luckily for the tourists, it is easy to look for cheaper flights all year round because Miami can be approached through three airports. When it comes to stay, making sensible traveling decisions is essential in order to save. Instead of looking for international hotels that would not let go of any chance of ripping off, opt for economical hostels that turn out to be a great option if you're trying to save. When you're at South Beach, you'll find plenty of options for food and drink. The countless open-air restaurants are just perfect when it comes to economical food, without compromising over the tastes. Luckily, the beaches are free and provide excellent recreation to the tourists. You don't need to get that hotel key to swim! The lively beaches get even better with the outdoor performers.
Whether it comes to the beaches or the culture, Miami is the perfect destination you must travel to!