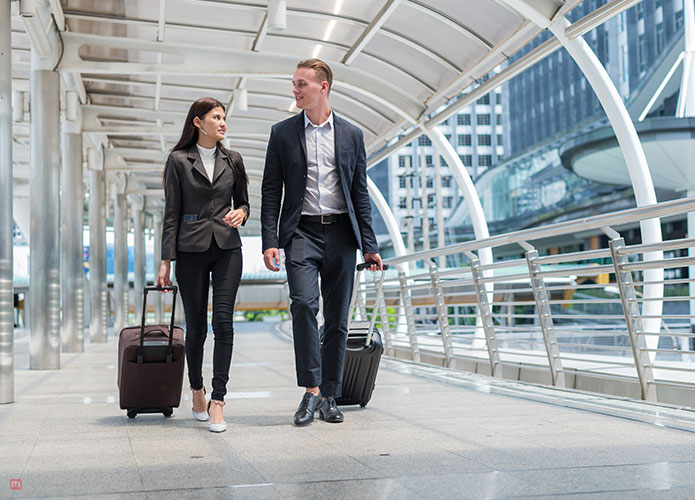 There has been a lot of hype surrounding Etihad's new A380 business class. It has been designed as an ode to both luxury and comfort. Business class passengers can easily relax and unwind after strenuous meetings and constant traveling. There is so much going on in the cabins including personal desk space and seats that recline into full-fledged beds.
Read: Emirates VS Etihad, Which Offers The Best Business Class Flights To Dubai?
1. A Different World
One of the biggest differences between Etihad's business class compared to other planes in its fleets (and other airlines such as Emirates) is that the cabin is divided on the upper level from the chaos and ordinary-ness of economy below. Even though both business class and economy are both on the same plane, once you step into business class it feels like a different aircraft.
The airline has revamped all its luxury cabins into what is said to be a new era of luxury travel on the most advanced commercial aircraft ever made. The new business class cabins give a sense of personal space, with a decent amount of storage space and a large television screen. One of Etihad's objectives was to make the cabin more personalized. The cabin crew is always more than helpful and the food is simply divine.
2. Pre-flight Pampering Sessions
We suggest that you arrive early for your flight in order to take advantage of the business class lounge. Business class passengers don't have to really go through a lot of hassle of waiting in line for immigration or security, so they arrive at the airport at their own convenience. In order to fully experience business class luxury, having a pre-boarding session is a must.
If you want to relax before your flight you can book a quick complimentary massage, which is a lifesaver before a long haul flight.
Read: Successfully Book Affordable Business Class Flights To Paris
3. The Business Class Cabin
Business class shares the upper deck with the even more premium first class. There is a comfortable social area that separates the two cabins from one another. The business class studios (business class) have been parted into two sections which are separated by a set of restrooms. Both the business class sections are the epitome of classy and sophisticated.
4. Generous Amount Of Entertainment
The business class cabin offers a modern television screen which has an interactive entertainment system. Business class flyers can choose from over three thousand movies and television series. There are a variety of genres offered such as foreign films and live stations like BBC or sports networks.
5. In Conclusion
To conclude, the Etihad business class experience is worth the money. The cabin is exclusive, private, comfortable and luxurious. There is a reason why Etihad has won the title of "The World's Leading Airline" by the World Travel Awards for eight years straight. Those who don't want to spend a large amount on a business class ticket should think about investing in airline miles. With airline miles, you can get a massive discount on Etihad Business Class flights.