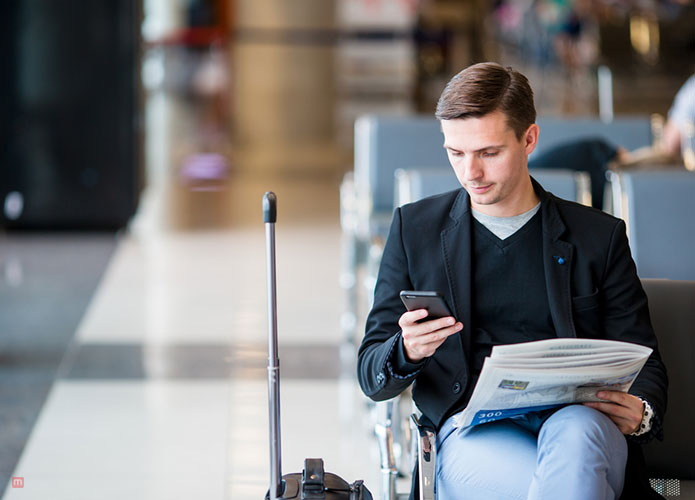 I had been hearing all the hype about American's Business Class since quiet sometime. Australia had been on my bucket list lately, and I was all set to tick this off. Because flights from America to Australia are pretty long, business class to Sydney was a high priority. The fare on the other hand was a huge concern against my limited budget.
After all the research and planning, I decided I had to go with American's new business class route; Los Angeles to Sydney. To be honest, my decision was majorly based on two factors. First was based on sensible grounds, American Airlines' affiliation with oneworld which means I could put my air miles to good use.  The second was my love for Boeing 777-300 ER, an aircraft like no other. With a much upgraded style and matchless comfort, it's the dream flight for a businessman who is looking for a lot more than just a comfortable seat. I did my research for my maiden flight to Sydney through American's Boeing 777-300 ER. Despite a few limitations, it seemed to have been all that I wanted.
What happened next? Read this review to know more about the journey.
1. On-ground Facilities
With American's partners, flying in luxury is always a plus factor no matter where you're traveling from. Not surprisingly, Los Angeles is no different. If you have a couple of hours before your flight and access to the lounge, hallelujah! This certainly is a great start to the journey, though not one of the best ones I've experienced.
Priority check-in is available for business class passengers with dedicated counters on Terminal 4 at LAX. This meant I could enjoy all that the American Airlines Admirals Club offers to the best. The Admirals Club isn't sure all that if you take a look into American's Flagship Lounges. From the furnishings to the food spread, everything is pretty impressive. I think it would be enough to satisfy even the fussiest traveler onboard. The Wi-Fi is incredibly fast, making it easy for me to work on the upcoming deadlines. From relaxing to eating, everything was a hit at the Flagship lounge!
2. American's Business Class Seat
The most important aspect of any long haul flight has to be the best one. Hands down, because American Airlines does complete justice to it.
Three best things about the flight? It operates from Los Angeles to Sydney every day of the week. The fully-flat business seats are a whole new world of comfort and every premium passenger gets full aisle access. Can it get any better?
The 777-300 ER business class is arranged in a 1-2-1 layout. I settled in 3A, and that certainly was a sensible decision. Row 3 is great in terms of privacy and controlling the window shades. Selecting the right business class seat is important because not all of them are the same.
The seat looks similar to what Cathay Pacific offers on its flights to Australia, inspired the 'Zodiac Cirrus' seats. This combination route of American and Qantas has more flat beds in comparison to that of any other route to Australia. The business class seat when fully flat can stretch up to 198 cm and also has an adjustable headrest, seat back and leg rest.
There's ample room for the shoulder and the amenities available make it even better for any kind of sleeper. The skincare products are not of top notch brands, but definitely something you would find practical. Overall, not the best in terms of the goodies but definitely a high mark when it comes to comforts.
3. The Business Class Food
We heard in the news how American completely revolutionized their menu sometime back on flights to Sydney, even in the economy. Naturally, I had high expectations from the business class.
The crew is generous when it comes to serving drinks. From starters to the dessert, everything tasted better than it should on a flight. While the menu gave me plenty of choices, I settled for the Tasmanian Salmon. From taste to presentation, it was beyond satisfactory. The choices of desserts are appetizing and it's fair to conclude that American has done a pretty good job with the menu. Let's not forget the pioneer walk-up bar for a U.S. carrier that keeps getting stocked with snacks of all kinds. However, American can do a better job with salads.
4. Work and Entertainment
The high-speed internet was a plus to get all the deadlines completed. I had read plenty of reviews of how the inflight Wi-Fi can play up in every other flight. Luckily, it was a smooth ride for me. The universal AC power socket and USB outlet make it easy to connect your gadget and work inflight.
With several controls, the 15.4 inch is great in terms of entertainment. Bose® QuietComfort® Acoustic Noise Cancelling® headphones are given to the business class passengers. Although the entertainment choices are plenty, the screen itself can't tilt which limits you in movement. What was even more annoying was that the screen had to be stowed at take-off, landing, and taxing. I've flew with economy classes where I could watch throughout the flight.
Overall, American's Business Class to Sydney had been a pleasing experience and a great start to the journey. The flight timings were pretty accurate (which for me is always a huge plus!). The crew wasn't the most impressive ones, but during the entire flight I didn't come across any reason to complain either. It would be great to see how American improves on its services to make this route more competitive.
Until next time, Happy Flying!