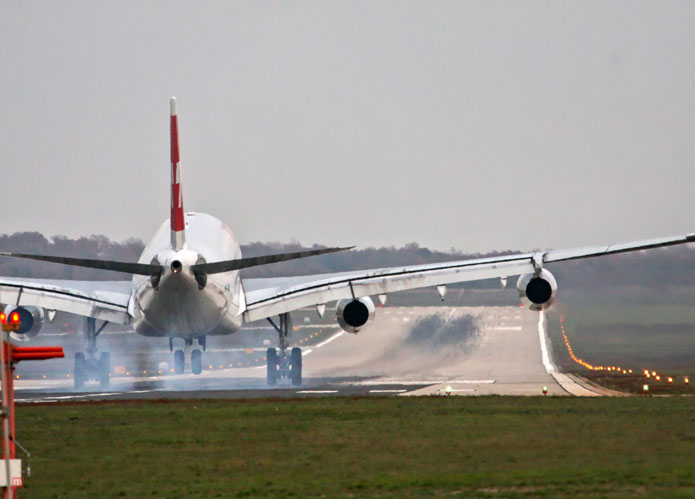 Air travel is a very secure way to travel, with thousands of flights taking off and landing smoothly each day. Millions of people are transported without a hitch but as with everything this method of travel is not safe and sometimes accidents happen. These accidents can be for all sorts of reasons, human or mechanical – the bottom line is that no matter how many precautions are taken, there is a very, very miniscule chance that something might go amiss. The recent fates of Malaysia Airlines Flight 370, Flight 17, Indonesia AirAsia Flight 8501 and more recently that of Germanwings Flight 9525 are tragic and stark reminders that things can take a turn for the worst. However many airlines are safe and this list covers the safest airlines in recent times. This list is based on Germany's Jet Airliner Crash Data Evaluation Centre (or JACDEC) which bases its list on airlines' cumulative performances over the last 3 decades.
Cathay Pacific:
Ranked as the top airline of 2014, it was also voted as the second best airline this year. In terms of safety Hong Kong's premier airline, Cathay Pacific nabs the top spot. The JACDEC reports that Cathay Pacific has had no crashes or hull loss events during the last 30 years. This is a very impressive feat and is a tribute to their consistent ranking as one of the top airlines of the world.
Emirates:
This giant from the United Arab Emirates is well-known throughout the world and has achieved a fame few other airlines possess. It ranks 5th in the world overall and occupies the second rank as far as safety goes.
EVA Air:
The JACDEC reports that this Taiwanese Airline has always ranked at the forefront among the safest airlines. However, compared to other airlines, EVA Air is still relatively small.
Air Canada:
Canada's largest airline, Air Canada flies passengers to 178 destinations around the globe. It also has a solid safety record and comes in the number fourth spot according to JACDEC's rankings with an index of 0.010 (lower the better).
KLM:
The flag carrier at the top among Europe's safest airlines, and comes at the number fifth spot. It has a safety index of 0.011.
The rest of the airlines are (in order)Air New Zealand, Qantas, Hainan Airlines, JetBlue and Etihad Airways. It should be noted that the JACDEC cannot evaluate every airline by the index and hence this index is limited only to the larger airlines that conform to a particular ratio between their size and their flown passenger kilometers.
It was a bad year for Malaysian Airlines with the mysterious disappearance of Flight 370 and the shooting down of Flight 17 over the Ukraine-Russian border, and they dropped from 34 to 57 iin the rankings.
2014 was a worse year than 2013 for the aviation industry as the number of deaths related to flight incidents was nearly 4 times in 2014 as it was in the year before. 2015 seems a better prospect.