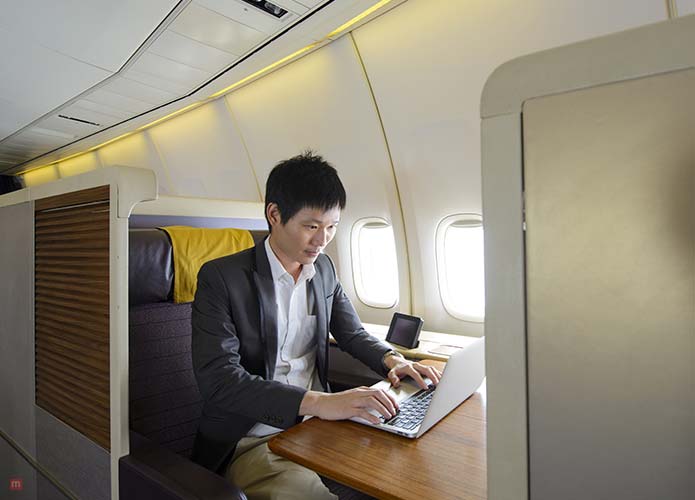 Business class and first class cabins create a sense of competition between airlines because each wants to outdo the other. Luxury comes at a price and the airlines charge abundantly for it. However, with that price, they try to provide their passengers 5-star luxurious and 5-star travel experience. Airline miles and credit card reward points have made it easier for people to have a business class experience. We're going to give you a glimpse into utmost extravagance, and letting you in on what to expect on a typical Singapore Business Class Flight.
1. Singapore Business Class Flights
A Singapore airline has carriers flying all over in the world, which cater to everyone. The airline has immense pride in its premium cabins because they're always trying to come up with new innovative ideas to stay ahead of the game. They frequently only have business class reward seats available on their website and partnering airlines websites as well.
Frequent flyers can easily use their airline miles towards booking a business class seat on Singapore Airlines. Those who are a couple of thousand miles short can easily buy miles directly from the airline, or from mileage brokers. Buying Singapore Airline miles will help you get a massive discount on the business class ticket. Who doesn't want that, right?
Read: The Secret To Getting The Cheapest Business Class Airline Ticket
2. What To Expect On A Singapore Business Class Flight
Those who're flying in business class for the first time will get a culture shock for sure because it's (obviously) completely different to coach. It's a different world altogether. Singapore Airline especially wants its business class travelers to have smooth, well-planned experience.
They give business class travelers to reserve their (5 stars) meals with Book the Cook. These meals need to book 24 hours in advance of departure. The airlines Book the Cook offers an endless option for the main course. They go above and beyond the typical "Hindu" or "vegetarian" option. Business class passengers can also select their actual entrée for every meal. Just to give an idea, their 21+, direct flights include four full meals, supper, breakfast, brunch, and lunch.
On their A380 they have over 80 flatbed seats which span the entire upper deck. The upper cabin is divided into three parts A, B and C (C costing a little less). They have also introduced New Business Class, Business Class, and Regional Business Class.
Regional Business Class has personalized seats which are shaped like a shell, which inclines into a flatbed. This cabin is featured in their A330-300. Their A380 business class has super wide seats and direct access to the aisle. Singapore Airlines A350 features their New Business Class which offers two new seating positions called the Lazy Z and the Sundeck. Their seats also turn in to fully flat beds for extreme comfort. Regardless of the plane and business class you choose, it's going to leave you wanting more. Business class passengers are allowed two free bags (up to 32kg each).